Brianna Armour (@futuremdbri) Pre-Med, EMT
"At first, I didn't think anything of it. I was like, "Let me just see how the day goes on." It did not ease up and it actually started turning a little bit purple and bruising and that's when I was like, "Okay, clearly something is wrong, either I hit myself in my sleep, I'm crazy at night, or there's something there."
I went to my OBGYN and it was not time for my annual exam, so I went there specifically for this reason and my OBGYN at first, was dismissive because of the fact that at the time, I was 25 turning 26 in a couple of weeks and I guess the age just wrote it off as, "Oh, you must've been careless and couldn't know what you hit yourself on or you forgot, maybe your kid hit you or something." And I'm like, "No, something's wrong." I don't second-guess myself. If I feel something is wrong, I'm going to go forth with it. And I asked to do a test. A mammogram was not approved for me because of my age and I had to fight with my insurance in order to get the mammogram because they did not want to pay for it.
After some coaxing, my OBGYN did sign off on it so that I would get that approval for the mammogram to be fully paid for. When it came back, the results were abnormal. That resulted in me needing to have a biopsy, because now they have to find out if this is cancerous cells or non-cancerous cells. I did have the second biopsy done and it turns out that I did have stage one breast cancer.
I kept my daughter very sheltered through my process and my journey with breast cancer for the appointments and things like that. For one she was way too young. I can't remember at the time, I think she was five and a half going on six or she was already six at that time.

The allheart Scholarship… When I first saw it posted in the app. I was, "Okay, I need tuition money. School is expensive and in a couple of years, I'll be putting my own child through school." Anything that is available, I'm going to apply for especially if it's something that is giving back to the health care profession in particular. That's what this scholarship was for.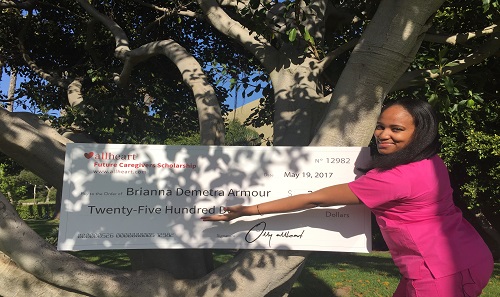 I was so excited to see it announced and when I started seeing the voting, I was getting a little bit discouraged. I was like, "Wow, these people have thousands of votes. I don't have a chance." Just little old me. I was thinking, I'd be happy to get the last place because anything truly helps as a single parent and paying my way through school. Getting a scholarship would be such a great opportunity but I went on ahead with it. I submitted my video and why I was asking to be considered for a scholarship. It went on for a few weeks. It was nice to let this scholarship promotion and then little did I know, I would be called later on as the grand prize winner.
I honestly did not think I had the chance. There was some really great entries. I actually went through all the videos and the women are amazing that entered. They're doing amazing things in their communities and healthcare and I was blown away. I was so impressed and just to even be considered, I was so grateful and humbled.

So, when I told her, she was ecstatic for me and she was, "You know what? You deserve it. You work hard. You do for others, you put yourself last so many times." I said, "Yes, I know. But you know what? Many other people do that as well." Just to even be selected as the top winner for that, was extremely humbling and it also showed that I'm on the right track. That this is something I should keep doing because clearly, some people are taking notice. They think that, I have what it takes to go on and become a doctor. They believed in me so much, that they granted me this scholarship. It was amazing and such an awesome feeling. I'm so thankful to the entire All Heart family. I love you guys. I just want to thank you for taking a chance on me and considering me worthy of it. I'm really grateful." Brianna Armour, Pre-Med, EMT #RealCaregiversRealStories
You can follow Medical Student, EMT Brianna's journey on Instagram @futuremdbri.
Brianna is also a member of the #allheartSquad. If you want to check out her allheart ambassador page, you can click here.